Laiken's Legion Weak Auras (7.2.5 Ready)
by Laiken101 » 09 Jul 2017, 11:52
Hello,
I'm Laiken, probably a fairly familiar face if you spend some time in #shadow on H2P's Discord Channel. Due to popular demand and Publik's offer, I'm here to share the WA collection, which I use on my Shadow Priest.
Right away, both of my collections were made with the intention to provide a different approach to other popular WA collections. I decided on a rather simple setup with a few graphics and a noticable lack of text, other than timers.
I hope you get some use out of the collections.
Shadow Priest WA
Shadow Collection
I'll give you a quick rundown on all the elements of this collection.
Insanity Bar
Contrary to TwinTop's insanity bar, the one I included, is very minimalisitc. Only a bar as well as your current amount of insanity. A Voidform counter on top with DoT-Trackers of your current target on both sides.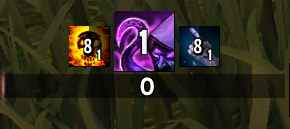 Main Cluster
The main cluster of information in this aura is located slightly above the Insanity Bar and its features.
Here you will find six tracking icons;
[Sephuz's Secret]
Tracker with cooldown and uptime to the left in the bottom row,
A [Mindbender] cooldown-tracker with a purple highlight as soon as you go above 30 VF stacks in the center,
A [Mind Blast] tracker to the right, featuring cooldown as well as stack-tracking for
[Mangaza's Madness]
The upper row features a tracker for
[Anund's Seared Shackles]
stacks,
as well as a icon for [Spectral Thurible], showing up as its charging in order to allow you to reposition and avoid ninjapulls.
Next to said icon is the obligatory CTTV tracker including a timer as well as a counter for your tentabros.
Above the main cluster you'll find a combattimer.
Besides those, the most "unique" thing may be the three animated textures with respective timers, showing (in order from left to right) [Twist of Fate], [Mindbender]'s uptime and the proc for [Mark of the Claw]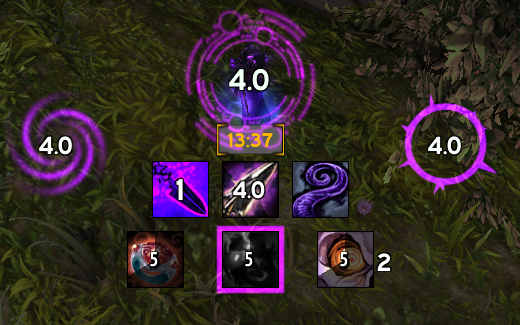 ---
by Tulum » 05 Sep 2017, 02:53
Thanks so much to share your collection.
I'm looking for this WA since two weeks :
Laiken101 wrote:A [Mindbender] cooldown-tracker with a purple highlight as soon as you go above 30 VF stacks in the center,
I will try it tonight and give you a feedback
---
---
Users browsing this forum: No registered users and 2 guests
Support Our Community
Video Content
Be Social
Tweets by HowToPriest
All times are UTC - 8 hours [ DST ]