7.3 Disc Guide
by Automaticjak » 03 Jul 2017, 14:51
Hello everyone and welcome to the Legion Discipline Priest Guide! I am Jak or AutomaticJak, Priest Healer for Vision on US-Kel'thuzad.
Table of Contents
Introduction
Discipline in Legion has changed drastically from Warlords of Draenor, but it bears a familiarity with Mists of Pandaria's iteration. Discipline's absorbs have been heavily dampened with
Power Word: Shield
receiving a cooldown of 7.5 seconds, along with Divine Aegis and Spirit Shell being removed.
Atonement
has now been pushed to the forefront of the Discipline playstyle, with a slight twist in how it has worked in previous expansions. In Mists of Pandaria, damaging an enemy resulted in healing to the most damaged ally; in Warlords of Draenor,
Atonement
healing went to a damaged ally though not necessarily the MOST damaged; and now in Legion we're in control of who is healed by
Atonement
.
Atonement
in Legion is a buff applied to the target by casting
Power Word: Shield
,
Plea
,
Shadow Mend
or
Power Word: Radiance
. After
Atonement
is applied, damage dealt to enemies is converted to healing on allies with
Atonement
and is amplified based on your Mastery rating. Discipline in Legion is quite a complex, fast paced, and enjoyable spec to play that can deal considerable damage (usually a bit below a tank) and powerful burst healing.
My goal through this guide and any post-guide instruction is to give you a better understanding of the practical applications of theorycraft without the fluff that could inhibit your gameplay. Part of this will involve explaining the thought process for WHY you are casting specific spells over others to better instruct you on some of the nuances of healing that others do not explain. Thank you for choosing my guide and I hope you find it instructive.
Priorities and Abilities
Discipline's playstyle in Legion focuses on maximizing healing through high uptime of
Atonement
on priority targets while also maximizing your damage output. There are many cooldowns to maintain, you must track your Atonemen tuptime in order to efficiently use
Plea
, and maintain buff/debuff uptimes on allies and enemies respectively.
NOTE: These are guidelines for a general priority under general circumstances, this is to give you an idea of what priority you put on casting which spells and why you cast them, situations and encounters can vary.
Plea
se read the Advanced Section for a more in-depth breakdown of Discipline's playstyle.
General Priority Raid Healing
Talents
Raid Talents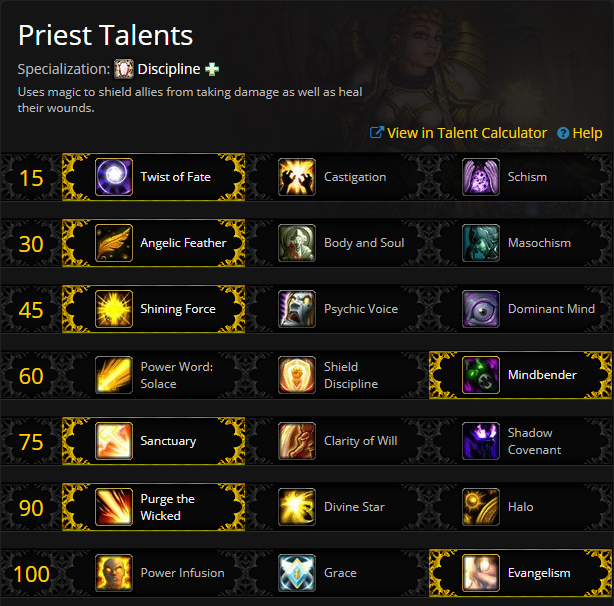 M+ Talents
Tier 1
Tier 2
Tier 3
Tier 4
Tier 5
Tier 6
Tier 7
Stat Priorities
Currently the stat priority for Discipline Priest in Legion is:
Intellect > Haste > Mastery > Critical Strike > Versatility
Intellect is our main primary stat and is found on all gear that we want to be wearing. It has a higher value than any of the secondary stats and should be the first thing you look at when debating whether one piece of gear is an upgrade over another.
Haste reduces the cooldown of certain spells like
Power Word: Shield
, which can greatly improve our efficiency, and also other damage and healing spells, which results in greater throughput. More
Power Word: Shield
can also make for more mana regen'd from
Shield Discipline
which is always a huge plus. Lastly, as with all other specs in the game, faster casting and quicker use of cooldowns is always a positive.
Mastery increases the percentage of healing transferred through
Atonement
. While this can be a strong healing increase, it provides no benefits to your damage. Mastery is also quite poor in Dungeon content as there are often periods where you must be healing in between pulls after mobs have died, so you must be using
Shadow Mend
to top off players--a spell Mastery has no synergy with. If you are only planning to raid and do little to no dungeon content then Mastery will likely be more valuable than Crit in many situations, keep this in mind when choosing gear or switching pieces around for Mythic+.
Critical Strike provides a chance to double the damage and healing done by your spells. While it benefits both your damage and healing spells, it does not currently match up to the throughput and mana efficiency provided by Haste, so it has a lower priority and is quite close to Mastery in value.
Versatility is a linear gain in outgoing healing & damage, as well as reduction of damage taken. With this increase to damage done, and decrease to damage received, comes the price of worse scaling than any other secondary stats for Discipline. Versatility will actually provide more benefits to healing than Mastery in 5-man dungeons while still increasing your damage, so it is much better in that content, but they are quite close in value in raids.
For more information on the work behind the stats, be sure to check out Josh's spreadsheet and the
Focused Will Discord
.
7.2.5 Artifact Build Path
Tomb of Sargeras Gearing
Tier 20 Gear
Hood of Blind Absolution
*
Mantle of Blind Absolution
Shawl of Blind Absolution
Robes of Blind Absolution
*
Gloves of Blind Absolution
Leggings of Blind Absolution
*
* Denotes a preferred tier piece to pursue
Item - Priest T20 Discipline 2P Bonus
- The first bolt of light from your
Penance
deals an additional 100% damage or heals for an additional 100%
Item - Priest T20 Discipline 4P Bonus
-
Power Word: Shield
has a 15% chance to cause your next
Penance
to be free and have 50% reduced cooldown.
These set bonuses are very valuable and should be a top priority to acquire in Tomb. The 2pc provides for substantially higher damage through
Penance
, rapidly increasing Disc's ability to provide prepared bursts of healing to the raid. The 4set allows for more rapid access to that burst and helps save a great deal of mana over the course of the fight.
Trinkets, Relic Priorities and Important Additions
Important Notes: Legendaries will not be listed and their rankings will be displayed below. Due to the nature of Mythic+ and the heavy incentives to be running them constantly I will avoid listing out every single slot of gear and instead focus on specific rankings for gear pieces as a perfect Best in Slot set is unrealistic and unobtainable. Following the stat priority for high item level pieces with large amounts of Haste should be your litmus test to pay attention to.
Trinkets
For Disc, the spec is becoming far less reliant on mana trinkets for sustainability. Disc in 7.2.5 should now easily have the option to utilize double throughput trinkets in all but the longest of encounters in Tomb of Sargeras.
Some preferred options for Tomb trinkets are as follows.
Tarnished Sentinel Medallion
>
Darkmoon Deck: Promises
>
The Deceiver's Grand Design
>=
Unstable Arcanocrystal
>
Chalice of Moonlight
There is an excellent spreadsheet of rankings and comparisons of the latest trinkets for Tomb created by
Mend
who is also one of the founders of the
Focused Will Discord
which provides exceptional theorycrafting for the Discipline community. This sheet can be found
here
!
Relics
While item level will frequently be king, optimal relics to pursue in Tomb of Sargeras include:
Holy -
Inquisition's Master Key
(Demonic Inquisition) or
Fragment of Grace
(Maiden of Vigilance)
Shadow -
Scornful Reflection
(Kil'jaeden)
Relic Priority
While the above are the best relics to pursue specifically in Tomb of Sargeras, you can get more powerful relics with lucky warforge or titanforges! Here is the general priority for optimal relics.
Confession
>
]Lenience's Reward
>
The Edge of Dark and Light
>>>
Borrowed Time
>
Shield of Faith
Jewelry
Necks and Rings are a great way to adjust your stats to help achieve a better balanced distribution. Warforge/Titanforge and Sockets can play a big role in deciding which piece to take over another, with M+ pieces also being a big factor. The most attractive Rings at face value in Tomb however, are the following;
Scaled Band of Servitude
(Mistress) and
Seal of the Second Duumvirate
(Kil'jaeden)
For Necks, in Tomb you have the option between a Versatility neck, or one without. It is inevitable that we will have some Versatility on our gear through tier pieces, so I would suggest avoiding acquiring more if you can help it.
Locket of Splintered Souls
(The Desolate Host)
Legendaries
While it is likely these Legendaries will all be an upgrade to whatever other gear you may be wearing, I wanted to offer a ranking of which legendaries are better than others so that you can better prioritize which one or two you will wear!
Tier 1
Tier 2
Tier 3
Tier 4
Gems, Enchants and Consumables
Enchants
Three gear slots can be enchanted with Legion gameplay enchants: necks, cloaks, and rings. There are also shoulder and glove enchants which can assist with professions, but weapons in Legion do not have special enchants.
Neck:
Enchant Neck - Mark of the Claw
Ring:
Enchant Ring - Binding of Haste
Cloak:
Enchant Cloak - Binding of Intellect
Gems
Saber's Eye of Intellect
,
Quick Dawnlight
Gem sockets have a small chance to be found on all gear in Legion, including raid bosses, world bosses, world quest loot, and dungeon loot. Rings and necks crafted by Jewelcrafters have a 100% chance to have a socket.
Flask
Flask of the Whispered Pact
Potions
Ancient Mana Potion
,
Leytorrent Potion
,
Potion of Prolonged Power
(prepot)
Food
Lavish Suramar Feast
is the highest quality food as of 7.2, the lower quality feast is
Hearty Feast
and the individual food is
Azshari Salad
but as of 7.2 it is weaker than feasts.
There is also a new Augment Rune:
Defiled Augment Rune
Advanced
Maximizing your efficacy as Discipline in raids will require the very quality that this spec draws its name from, Discipline. Disc has been transformed into a very bursty healer with the primary goal of reversing damage as soon as it occurs with well-timed blanket of
Atonement
s that are placed just before the damage occurs. "Ramping up" refers to the period before damage, generally downtime, where you apply multiple
Atonement
s at a time before raid wide damage occurs so that you can instantly heal up your allies. There are different magnitudes of ramp up phases based on the damage expected.
Power Word: Radiance
is your primary method of applying mass
Atonement
s and, while costly, is extremely effective at targeting specific members of the raid due to its smart targeting.
In 7.2.5, we maintain this element of burst to our spec, but it comes in a much different format. Rather than casting multiple
Power Word: Radiance
s at a time we are relegated to only two because of the charge based system that has been added. To supplement this,
Power Word: Radiance
now hits 5 targets and
Evangelism
is a new talent that helps extend the duration of all active
Atonement
s. To use this properly, we now must heavily juggle multiple different cooldowns all at once. Proper ramp-ups will often involve a priority system listed above where you are tying the cooldowns of
Evangelism
and
Light's Wrath
together to maximize efficiency of both abilities. Your ramp-ups now are not always required to happen before damage happens, and you have greater opportunities to heal priority targets thanks to
Power Word: Radiance
's smart healing capabilities.
How fights generally will work is choosing between whether to go all in, or just dip your toes into the pool. "All in" means that you will be utilizing both
Power Word: Radiance
charges, Shadowfiend (or MB if talented),
Evangelism
and
Light's Wrath
all at once in order to provide your super burst of healing to the raid.
Rapture
generally will not be sync'd to other cooldowns as you often will overlap
Rapture
s too much to
Atonement
into
Power Word: Radiance
casts, so it will be more efficient to use
Atonement
in between
Evangelism
/
Light's Wrath
windows. Dipping your toes in will just be your in-between phases. While primarily you will want to be utilizing your
Power Word: Radiance
charges together, you may end up with opportunities where you can use just one charge based on the damage going out on the raid.
If there is a fight similar to Star Augur where the fight starts with limited damage on 4-5 targets at a time, then you can utilize a charge here and there to heal them instead of using
Plea
or
Shadow Mend
to place those
Atonement
s (always assuming
Power Word: Shield
is used on cooldown). The thing to keep in mind though is the cooldown of your
Power Word: Radiance
charges. In this Augur scenario, it will work out perfectly if you are able to time out the encounter so that you know that by the time the Frost Nova comes out from the boss (aoe raid damage) you will have both
Atonement
charges back and at the ready to top off the raid immediately after the hit.
Evangelism
will then extend the duration of those
Atonement
s so you can heal up any remaining HP left behind after your
Light's Wrath
into
Penance
. After that is completed, the timer in your head should start again as you look to how much time you have before the next Frost Nova and you will manage your
Power Word: Radiance
charges around it.
Once you have sorted through all of the scenarios for when you manage your precious
Power Word: Radiance
charges, then we look at the in between, to
Plea
or not to
Plea
.
Plea
and
Shadow Mend
are your secondary
Atonement
applicators, with
Power Word: Shield
and
Power Word: Radiance
being primaries. When you are in between your primaries' cooldowns you have to decide whether to
Plea
or
Shadow Mend
and the effects it will have on your healing and mana.
Shadow Mend
, if it heals, will always be higher HPS but
Plea
will be more mana efficient. If a target is near death then absolutely
Shadow Mend
, that is never in question, but the mana efficiency of your kit, is always something to keep in mind. If you have free mana and long periods of downtime for example, it is totally fine to be using
Smite
as general filler for damage. If you are concerned about your mana however, you may want to hold off on
Smite
s until you have at least 4-5
Atonement
s out before using
Smite
s.
Efficiency with our abilities and Discipline with our preparations are key to mastering the spec in 7.2.5. I hope you all enjoyed this deep dive into the spec and found it helpful. If you have any questions feel free to message me on
Discord
or
Twitter
.
- Jak
Last edited by
Automaticjak
on 07 Sep 2017, 12:16, edited 2 times in total.
---
by Rofleboon » 06 Jul 2017, 05:10
Very nice written guide. I don't really play disc but still enjoyed to know how it works in 7.2.5. Thanks for writing this!
---
by Inuyasu » 09 Jul 2017, 11:51
I have been getting very good results with the new disc changes. Outside of the burst windows I feel like our healing has gotten so much better. I was doing heroic tomb (disc is my off spec 919 weapon 53 traits) pulling 700k+ usually with my highest being like 950k on Mistress. I thought they were going to tear discipline apart with the changes but overall I'm pretty happy with how its working out for me.
---
by Binfordi » 29 Sep 2017, 10:48
I've only begun LFR on my disc priest as I don't feel like my gear is very good overall. One thing I find is that I go OOM real fast, sometimes when the boss is only at 50% health.

In general, should we not try to blanket the raid with Atonement during the "downtime?" I feel like in other places I've read online, we should have over half the raid covered with Atonement at all times so we can heal and to spam Smite to get heals up.
---
by Elvenbane » 30 Sep 2017, 07:47
Binfordi wrote:In general, should we not try to blanket the raid with Atonement during the "downtime?" I feel like in other places I've read online, we should have over half the raid covered with Atonement at all times so we can heal and to spam Smite to get heals up.
Short answer is no.
Essentially non-burst is SWP/PTW > Shield > Penance > Smite or Plea - picking between the two based off of who needs healing.
Attempting to keep 15+ atonements up at all time will kill your mana.
---
---
Users browsing this forum: No registered users and 0 guests
Support Our Community
Video Content
Be Social
Tweets by HowToPriest
All times are UTC - 8 hours [ DST ]