[7.3] Holy Guide
by redfoxak » 24 Aug 2016, 16:32
Table of Contents
Introduction
Acronyms
Toolkit
Stat Balance
Talents
Binding Heal
Basic Play-style
Artifact
Relics
Consumables
Legendaries
Advanced Gameplay
Addons
7.3.2 Change Overview
One new legendary item

T21 added and drops from Tomb of Sargeras

Introduction
Hi, I'm Redfox, or as my guild knows me
Aintei
! I'm a Holy Priest for
Aesthetic
on Area 52-US and will be keeping this guide up-to-date since Aspartaami is currently out in the world adventuring. The information contained in this guide is a group effort by myself and the rest of the How to Priest Holy Team with the goal of being a practical summary of how to be the best Holy Priest you can. We are all available in
discord
in #holy to answer your questions and take your suggestions.
This guide was originally written and maintained by
Renray
previous healing officer for the Guild
<Vindicatum>
on Icecrown(US), with updates from
Aspartaami
of
Familiar With Drama
.
Acronyms
FH =
Flash Heal
BH =
Binding Heal
PoH =
Prayer of Healing
PoM =
Prayer of Mending
DH =
Divine Hymn
LoT =
Light of T'uure
PotN =
Power of the Naaru
BoT =
Blessing of T'uure
ToL =
Trail of Light
LotN =
Light of the Naaru
Back to table of contents
Toolkit
Basic Toolkit
Heal
- A single target, very slow, and very mana-inexpensive heal.
Flash Heal
- Faster version of Heal. Heals slightly less than Heal, but does it faster at the expense of more mana.
Renew
- Instant cast Heal over Time (HoT) spell. Relatively expensive for the amount it heals. Usually not worth casting.
Prayer of Healing
- Slow cast, AoE spell that heals 5 allies around your target. Considered our mana-dump.
Prayer of Mending
- Fast cast buff that applies 5 charges to a friendly target. When the target takes damage, the buff will then heal them, and bounce to a new target.
Holy Word: Serenity
- Very strong single target heal. Instant cast. 60 second cool down before Serendipity.
Holy Word: Sanctify
- Very strong AoE targeted ground heal. Instant Cast. Hits 6 players. 60 second cool down before Serendipity and artifact traits.
Smite
- Fast cast damaging ability. Costs no mana. Filler.
Holy Fire
- Instant cast damaging ability. Leaves a DoT on the target which does the majority of its damage and can stacks up to two times.
Holy Word: Chastise
- Strong single target, instant cast, damaging ability. Incapacitates the target for 5 seconds.
Cooldowns
Guardian Spirit
- Buff. Lasts 10 seconds. Increases the healing the target receives by 40% during the duration of the buff. Guardian spirit will also prevent the target from dying to a fatal hit, (up to 200% maximum hp in overkill) instantly consuming the buff and reviving the target back to 40% of their maximum health.
Divine Hymn
- Major healing cool down. Heals all party and raid members within 40 yards for a large amount over 8 seconds. After the initial tick hits, all affected players will receive a buff, increasing the healing they take by 10% for 8 seconds. Each tick of Divine Hymn re-applies the buff.
Desperate Prayer
- Instantly heals the priest for 30% of their maximum hp, then applies a buff that increases the priest's maximum health by 30% for 10 seconds, decaying by 2% every second.
Utility
Spirit of Redemption
- Upon death, the priest will enter a spirit form in which they are immune to all damage, and may cast all healing spells free of mana for 15 seconds. After which they die.....notsohorribly?
Mass Dispel
- Large targeted ground AoE that purges 1 magical effect from 5 enemies and dispels all harmful magic effects from 5 friendly allies. Heavy mana cost. Can remove typically undispellable buffs like Iceblock and Divine Shield.
Leap of Faith
- Grabs a friendly player in your raid or party and pulls them directly in front of you.
Purify
- Single target dispel. Removes all magic and disease effects from your target.
Dispel Magic
- Removes one beneficial magic effect from your enemy.
Back to table of contents
Stat Balance
First let's look at how each secondary stat affects our class
Critical Strike
- Gives the chance for our healing spells to do double their original amount. A particularly interesting interaction is that when a crit occurs, the following Echo of Light on that target will also be twice as strong. So this stat double-dips ever so slightly.
Haste
- Reduces the cast speed of spells, and lowers GCD and the cooldown of certain spells in our toolkit like Circle of Healing and Prayer of Mending.
Note
: Renew now scales linearly and does not have any breakpoints. This means that instead of an extra tick being all or nothing with traditional breakpoints, a partial tick is created with a magnitude based on how close to the next full tick the duration is.
Versatility
- This stat has a direct impact on all your healing done, and should absolutely not be ignored. Even if you don't take into consideration the damage reduction that versatility gives, always having some is also great for your throughput.
Mastery
- This stat directly buffs our Echo of Light passive.
What Echo of Light does, is take the amount of direct healing that you did to a target, and then puts of a 6 second HoT on them that will heal them for a % of the initial amount of healing you did.
Example: If you have 30% mastery, and cast a Heal that does 100,000. The Echo of Light would then heal the target for 30,000 over the next 6 seconds in the form of a HoT. More specifically, it would be two ticks three seconds apart of 15,000.
The effect can stack. If you cast several heals into a target in a row, the Echo of Light will build up be extended to 8 seconds. Because the duration is increased it may seem like the value of the healing is going down. This isn't the case, the healing is just now being extended into a 8 second HoT instead of a 6 second one. Meaning it will do the healing over 3 ticks instead of 2.
The following is the updated stat balance for 7.3.2
If reading isn't your thing,
Aspartaami
has you covered with a
quick video
!
Intellect >> Mastery around 35-40% > Crit > Haste > Vers
A good way to determine how much mastery you generally want is the content you raid. around 30% for normal, ~35% for HC and 40% for mythic.
Haste, Crit and Vers should all not be neglected however, going for more balanced build benefits us the most.
With that said a good secondary balance for Heroic would look something like this
(this is a rough guideline)
:
30% - Crit
15% - Haste
35% - Mastery
5% - Versatility
Even more important than secondary stats, is Intellect. It is by far our most impactful stat, and we gain int at a higher rate than secondaries as ilvl increases, so when equipping armor items it is always ilvl > stats. Tier pieces are an exception to this, some bonuses you can drop Int and still be ahead based on the set bonus, though you still want to choose your tier pieces in such a way to maximize Int. After your armor is selected, use rings, neck, enchants and gems to balance out your secondaries.
Note:
We are healers, first and foremost. We have a lot of room to shift stats around; casting patterns and proper play are more important than achieving "perfect" stats. If you are interested in how our stats interact with each other, see
the holy priest spreadsheet
.
Back to table of contents
Talents
Tier 15
Trail of Light
- After casting Flash Heal, subsequent casts of Flash Heal will replicate 40% of the value of Flash Heal on the previous target.
Enduring Renewal
- Direct healing spells now refresh the duration of Renew on the target. Interacts particularly well with Binding Heal. Renew in particular isn't very strong, and the talent can easily trick players into healing targets who don't need attention simply to refresh the duration of Renew, thus wasting time and mana.
Enlightenment
- Increases mana regeneration by 10%. Equates to approximately 50k mana per minute. This talent is quite useful in raids. Fights where you are spamming Prayer of Healing with little Flash Heal.
Go-to Choices
:
For Raiding
: Enlightment is by far the best option from this tier. It converts to 52.8k mana/minute, which at first seems like nothing but in 6minutes it's almost 30% of our mana which is more than any trinket. Picking this talent allows more PoHs and give an option to play with double throuput trinkets.
For Dungeons
: Trail of Light. 5man content relies on direct healing, and mana is never an issue since you can drink after each pull, so ToL is the best choice for that.
Tier 30
Angelic Feather
- Targeted ground ability that places a feather on the floor, and increases the speed of any friendly player who walks through it by 40% for 5 seconds. This has a max of 3 charges, and up to 3 feathers can be placed at a single time.
Body and Mind
- Instant cast spell that increases the speed of a friendly player by 40% for 4 seconds. Also applies a minor heal over its duration. Has a 10 second cool down. Because this spell can only be used once every 10 seconds, its less desirable than the feathers, despite the fact this talent has some minor healing tied into it.
Perseverance
- When you cast Renew on yourself, it reduces all damage you take by 10%. This has an idea, but still never going to be picked. Sacrificing all utility for 10% DR cannot be justified by anything, so this talent will remain untouched.
Go-to Choice
:
For Raiding & Dungeons
: Angelic Feather is one of two mobility options we have this teir and is the best choice on this row. The mobility offered coupled with charges means you will always have a feather when needed. A cast at player macro can be found
here
for easier casting.
Tier 45
Shining Force
- Knocks away, and slows all enemies around your target by 70% for 3 seconds. However, you won't be taking this talent most of the time due to the fact it's very counter-productive to the dps in your dungeon. Most of the time you do not want to spread out mobs. You want them grouped up so that you dps can cleave easily. This talent should be used with care as to not spread out mobs, pull extra packs, or miss position important adds.
Note:
This talent can be particularly useful in certain scenarios. During Sanguine affix's you should use this talent to reposition pesky caster adds out of pools to prevent them from healing. During Necrotic affix's this spell can be used to help reset high stacks of poison on your tank, and during Skittish affix's, this spell can be used to push deadly mobs off DPS who get aggro. And lastly, this spell is particularly useful for re-positioning bloods on I'llgynoth.
Censure
- Turns your Holy Word: Chastise into a 5 second stun instead of a 5 second incapacitate, meaning damage on the target will not break the CC. Good for locking out dangerous mobs. This talent is particularly useful while leveling and doing dungeon content, as it provides CC like Shining Force, but without repositioning mobs for less optimal cleave damage.
Afterlife
- Increase the duration of your Spirit of Redemption by 50%, making it go from a 15 second duration, to a 22.5 second duration. This talent is particularly useful paired with the Legendary Cloak, and is the only potential healing increase on the talent row, making it the go to choice for raiding.
Go-to Choice
:
For Raiding
: Afterlife. It's healing potential outweighs the CC in most cases unless you are taking one of the other talents to do a specific job.
For Dungeons
: Censure. The reason this talent is the go-to over Shining Force is due to its ability to CC mobs without repositioning them. It is almost always better to group up adds and kill them quickly rather than to spread them out. Your dps will thank you. As mentioned above, however, there are plenty of scenarios where it would make more sense to take Shining Force so long as you position it properly, and communicate with your group.
Tier 60
Light of the Naaru
- Increases the effectiveness of your Serendipity passive by subtracting an additional 2 seconds from the cooldown of Holy Words. This talent is generally pretty good for dungeons, as you are typically relying on your Holy:Word spells to get you through difficult situations.
Guardian Angel
- If the target of your Guardian Spirit lives for the full 10 second duration, the cooldown on the spell is then reduce to 90 seconds, rather than 240 seconds. This talent is extremely useful in higher level dungeons so long as you make constant use of the spell. Having a tank external on such a low cool down is extremely beneficial and can make the run go very smoothly.
Symbol of Hope
- This spell applies a 10 second buff to all healers within 40 yards. While this buff is active, spells no longer cost mana. This spell is extremely powerful, and basically the AoE version of a druid's Innervate. By using this, you are sacrificing your own throughput to increase that of your whole healing team, typically this is taken to help another healer parse well.
Go-to Choice
:
For Raiding & Dungeons
: Light of the Naaru! Holy Words are our bread & butter, and LotN simply provides us with more of them which also leads to higher Divinity uptime.
Tier 75
Surge of Light
- Your healing abilities and Smite now have an 8% chance to proc Surge of Light. This buff makes the next Flash Heal you cast, both instant, and free of mana. This buff can stack up to 2 charges. Strong talent as it both provides free healing, and allows for higher mobility by giving us more spells to cast while moving. Good synergy with Trail of Light.
Binding Heal
- A relatively strong heal that heals you, your target, and another player within 20 yards. Also triggers Serendipity by reducing both Serenity, and Sanctify by half of it's regular strength for both Holy Words. Binding heal is a cheap, cleave heal with a smart component. Even with Prydaz and Leech on your gear, Binding Heal still brings value to our toolkit. More information can be found
in this writeup
. Binding Heal also does not proc Blessing of T'uure.
Piety
- Prayer of Mending's cooldown is now reduced by 2 seconds and Prayer of Mending now triggers Serendipity on cast, making it reduce the cooldown of Sanctify by 6 seconds.
Go-to Choice
:
For Raiding
: With T21 set bonuses, Binding Heal has amazing synergy with it. Without, Piety or Binding Heal are both pretty close in throughput.
For Dungeons
: Surge and Piety talents have use in m+. Surge is great for more healing on the move, Piety is a solid option and particularly for grievous. With the bursty damage intake, topping people off quickly is needed and BH falls behind FH and Trail of Light when spothealing is required.
Tier 90
Divinity
- Increases your healing done by 15% for 6 seconds after casting either Serenity or Sanctify. This talent is particularly good because it can have a high uptime when using your Holy Words correctly, as well as having the ability to buff some of our highest throughput spells, like Divine Hymn.
Halo
- Fast cast AoE heal and damaging ability that creates a ring of light around you, and quickly expands to heal all allies and damage all enemies within 30 yards This spell is great for questing and tagging mobs, and well as being a nice little AoE heal to people who are spread out and hard to hit with more tight-knit spells like Prayer of Healing or Sanctify. Has surprisingly strong burst AoE damage for a healing spell.
Divine Star
- Instant cast AoE spell that shoots out in a straight line for 24 yards, that heals all allies and damages all enemies in front of you twice, once as it goes out, and once as it returns. Not particularly useful in any situation. The damage isn't much more than just simply casting Holy Nova, and the healing is pretty negligible.
Go-to Choice
:
For Raiding
: Divinity as it will provide the largest healing increase.
For Dungeons
: Either of the 3 above are fine, but when it comes to the harder mythic+ I recommend Divinity because of the extra healing it provides. Divine Star and Halo are still fun to play with and does nice AoE dmg also for lower mythic+ runs when there isn't a high healing requirement.
Tier 100
Apotheosis
- Powerful healing ability on a 3 minute cooldown. Increases the passive Serendipity by 200%, meaning the reduction of spells that affect Holy Words cooldown goes from 6 to 18 seconds, or with Light of the Naaru, from 8 to 24 seconds. Also reduces the mana cost of all Holy Word spells by 100%, making them free.
Benediction
- Prayer of Mending now has a 40% chance to apply Renew to each target it heals. Great on fights with constant ticking damage like Maiden, Mythic Sisters of the Moon, and Desolate Host in the spirit realm. The reason is that it will make sure that Prayer of Mending is never wasted, as well as making use of the Renew healing afterward.
Circle of Healing
- Instant cast AoE spell that heals 5 targets for a moderate amount. 15 second cooldown that is reduced by haste. This spell is very mediocre, and a poor choice in almost all scenarios. It provides just about the same healing as Prayer of Healing with artifact buffs, and costs more mana. This spell will cost you more mana than it will provide healing. This talent is easily outshined by other choices on the row.
Go-to Choice
:
For Raiding
: Benediction is the numero uno! Most encounters have quite steady raidwide damage from the start, that allows Benediction (especially coupled with our artifact) to do a lot of passive healing and it simply pulls ahead compared to Apotheosis, all for keeping Prayer of Mending cast on cooldown.
For Dungeons
: Apotheosis. Having an extra healing CD to use on harder mythic+ runs is a lifesaver (explosive, grievious, bursting), and when it comes to Tyrannical weeks you can use it offensively to burst very high single target damage. Some people will run benediction for a bit more sustain.
Back to table of contents
Basic Play-style
In WoD, our filler spell was Renew. That is no longer the case, in fact, it's easily one of our worst spells due to the fact it has high mana cost, low healing, and no interaction with our Holy Word spells.
The Holy Priest basic rotation boils down to taking advantage of our passive Serendipity so that we can make use of as many Holy Word spells as possible, and maximize Divinity uptime.
This is made easy by the fact that our single target heals like Heal and Flash Heal reduce the cooldown of our single target Holy Word spell, Serenity. And our AoE spell, Prayer of Healing reduces the cooldown of our AoE Holy Word spell, Sanctify.
This means that we don't have to make too many difficult decisions when it comes to what kind of spells we should be using. Either you need more Single Target, or you need more AoE. Simple.
Cast

Prayer of Mending

on CD, this is our most efficient spell, particularly when paired with

Benediction

.

Cast your Holy Words as often as possible, with as little overheal as possible. Holding them for a short period to get more out of them is perfectly normal.

During AOE situations cast

Prayer of Healing

. Preferring to cast it directly after Sanctify for the

Power of the Naaru

and

Divinity

buffs.

During single target damage / spot healing situations, cast

Flash Heal

.

For light damage fill with

Heal

. This usually happends in the start of encounters when only a tank is taking some damage or during downtimes on encounters.

When moving, if you have no instant casts then cast

Renew

to players that are in need of healing. If no-one needs healing it is also perfectly fine to let your mana rest while moving.

For little or no damage phases spam

Smite

untill you need to heal again. It doesnt cost mana, and helps with dps.
Advanced
:
You should keep 1 charge of

Light of T'uure

always running. Easiest way to use it, is to have it on active tank. It can also be used to a player with a debuff to help a bit with healing.

When using

Divine Hymn

keep in mind that it needs to be setup to be a strong raid cooldown. Make sure you cast PoM on CD to benefit from

Renew the Faith

as much as possible. And just before you start the channel, use a Holy Word to gain Divinity.
Back to table of contents
Binding Heal
Binding Heal
has gone through a lot of changes this expansion. In it's current iteration, it's strength is a cheap smart cleave filler spell for isolated damage on a few people. This means that it's great where PoH would overheal way too much, heals quicker than Heal, and is easier on mana consumption than Flash Heal.
Prydaz
and Leech are also still good to run since the self healing portion is a bonus and not the main reason to take this talent, though it does gain a little more value if you're taking damage as well (Armageddon dot, Goroth comet, etc).
Since Binding Heal helps to bridge the gap between healing the entire raid and single targets, taking Binding Heal also makes the rest of our toolkit more efficient by reducing overheal on FH/H/PoH. This means that it should replace Flash Heal and Heal in your rotation; though when single raid members are in danger of dying, Flash Heal will do this a lot better than Binding.
Binding Heal is not a spot heal
.
Other encounters Binding Heal is good to consider talenting into are Desolate Host, Sisters of the Moon, and Fallen Avatar, or if you are not on top of casting PoM on cooldown BH will help to pick up that gap.
If you're interested in more details behind Binding Heal,
check out this writeup
.
Back to table of contents
Artifact
Recommended Path -
The first image is the 35 traits you get when you obtain T'uure. Second picture is the traits you get once you reach 35 and open broken shore, which allows you to go above 35.
Explanation
- These routes provides you with the most important buffs to healing and utility.
Relics:
Raid Relic rankings:
Say your Prayers
>
Words of Healing
=
Power of the Naaru
=
Holy Guidance
=
Hallowed Ground
>
Holy Hands
>
Reverence
>
Serenity Now
>
Caress of the Naaru
Trust in the Light
pretty much never sees daylight due to the trait being complete trash.
SYP is generally worth +3 weapon item levels, with the rest worth approximately 1 item level except for Trust in the Light which is not worth any. For more specific values use
the holy priest spreadsheet
.
Gold Traits
Renew the Faith
- This trait has a lot of potential, and does nicely in most encounters. It does mesh relatively well with Benediction, and the amount of bounces per second is reduced by haste. It demands nothing but casting PoM on CD, and you should be doing that already anyway. This provides the chance to get multiple charges up for when you Hymn, which with playing with Benediction means that majority of the raid will have a renew also after the Hymn channel which is very nice.
Blessing of T'uure
- It gives us a buff that is a flat 20% healing increase across the board. Affecting everything from our filler heals, to our Divine Hymn, and our Echo of Light. Due to the changes in 7.1.5 to ToL not proccing BoT anymore we feel the RNG of this a lot more than before even with quite high crit. Therefore we recommend taking it later on since relying on RNG is not very beneficial.
Light of T'uure
- This an active, 2 charge instant cast spell, that does about the same healing as Flash Heal, and applies a buff to the target for 10 seconds that increases all healing the target takes from you by 25%. It also costs no mana. If you're ever unsure of how to make use of the healing increase, putting it on the tank is almost always a good idea, as they are taking constant damage.
Cosmic Ripple
- Everytime a Holy Word comes off cooldown, you heal 5 injured allies around you. Cosmic Ripple has 40 yard range and its indeed semi smart heal. Very good addition to our healing toolkit, and boosts our raw hps nicely.
Another Trait worth mentioning is
Power of the Naaru
. Four levels in this trait increass the healing done by Prayer of Healing by 24% for 15 seconds after casting Sanctify. It's important to take advantage of this buff and plan accordingly so that you can cast as many Prayer of Healings during the buffs duration that your mana will allow assuming you the AoE healing is needed.
Back to table of contents
Consumables
Ancient Mana Potion
- Restores 160,000 mana on-use instantly. Good potion to use when you don't have the time to sit and drink for 10 full seconds. Also useful for fights where you need a touch more mana, but it doesn't make sense to stop healing.
Leytorrent Potion
- Restores 240,000 mana over the course of 10 seconds in which you are unable to move or cast spells. This is usually the potion you want to use on progression. Find a time during the fight when incoming damage is low so you can take advantage of the required channel. Just be sure to communicate with the rest of you raid and fellow healers that you'll be unable to help heal during that time.
Potion of Prolonged Power
- This is out the to-go-to prepot potion. 2500 of all stats for 1 minute? Yes please. It buffs up healing and DPSing, so it provides a versatile buff for each pull.
Flask of Whispered Pact
- The basic Intellect flask this expansion.
Food:
You actually have a choice here. Depending on your current gear situation, you can either use
The Hungery Magister
,
Azshari Salad
or
Nightborne Delicacy Platter
or even
Seed-Battered Fish Plate
. You can use food to your advantage by helping balance out your stat weights so you don't have too much of either.
With 7.2
Lavish Suramar Feast
got buffed from 200 main stat to 500 main stat. If this feast is available it should always be the food of choice since int is our best stat.
Enchants:
Neck -
Mark of the Ancient Priestess
is our best neck enchant. It is important to note, that neck enchants provide very little to our overall output. If you use the same neck for another spec,
Mark of the Trained Soldier
or
Mark of the Claw
can also be used. It's more importatnt to have something enchanted than nothing.
Cloak -
Binding of Intellect
Rings - Just like your food, you can decide between
Binding of Critical Strike
,
Binding of Haste
,
Binding of Mastery
, or
Binding of Versatility
depending on your current gear situation.
Back to table of contents
Legendaries
Raid Legendary Rankings:
Mythic+ Legendary Rankings:
X'anshi, Should of Archbishop Benedictus
- By far the most powerful legendary available to Holy Priests. It allows you to resurrect immediately after spirit form falls off. Basically turns into a free battle rez every pull. You can use this cloak in many different ways. You can purposefully kill yourself to and use it as a "23 second innervate" with Afterlife, you can use it to soak mechanics, you can use it to quickly mass-rez your raid after a wipe, but above all it acts as a personal cool down that Holy Priests so desperately need.
Notes:
You do not regenerate any mana during SoR unless you have

Greater Blessing of Wisdom

You do not lose food or rune buff if the cloak procs
You get a buff during SoR that starts a 1 and stacks up to 100. The more effective healing done, the more health you will come back to life with. If you end at 60 stacks, you come back to life with 60% health.
You can only revive once every 10 minutes but this does reset on raid wipes.
When Holy Priest enter Spirit form, it counts as death and therefore it procs

Retribution

for ret paladins. What this means is that for bosses with high DPS checks, you can use the cloak to soak a mechanic, and buff up your paladins DPS when they get their 2nd or 3rd set of CD's up, which can be the key for your group to get the boss down.
Using the proc, also resets your potion, which means it allows you to have a second manapot or another prolonged power to buff up your spells even more.
The debuff will also reset on a boss reset like Heroism/Lust. Meaning you can die every pull.
Prydaz, Xavaric's Magnus Opus
- Very good legendary. The shield it provides is useful due to the fact that we have no personal cool down, so the extra cushion it provides is actually pretty desirable. On top of that, any absorbtion that the shield does gets counted toward your hps, so it looks nice on the meters. It also has a gem slot, and a nice chunk on stats on it!
Entrancing Trousers of An'juna
- These are the pants every Holy priest wants to wear. Absolutely amazing synergy with the piety-benediction spec. They provides a nice passive boost to our healing.
Notes:
Shines on encounters with constant raidwide damage such as Maiden, Sisters, and Mistress.
Battles as throughput legendary with Velens, both are viable and you should use either regarding what kind of healing you need. If you need steady encounter lasting HPS increase, these pants are your way to go.
Velen's Future Sight
- A really nice legendary, that was added with the 7.1.5 patch. It has crazy amount of stats and the use is strong. It has fairly low cooldown (1m15s) and which means you can use it multiple times during encounters. Ideally you use it for Hymn, and another bursty phase in between them Hymns. The trinket needs attention, and some thinking ahead, but when utilized correctly it boosts our healing significantly when it's needed the most.
Notes:
Very strong for encounters where dmg comes in strong spikes, such as Goroth, Mistress, Sisters, or Maiden for example.
Battles as throughput legendary with pants, both are viable and you should use either regarding what kind of healing you need. If you need heavy burst, Velens is your pick.
Rammal's Ulterior Motive
- Another one that was added in 7.1.5. Each time PoM heals a target it leaves a 10sec buff to it, that boosts the next Heal/FH/Serenity you cast to the target by 20%. If you happen to get these, do not chase the buffs, more like let the buffs be there and if a target that needs healing happens to have the buff, good! If not, don't change your casting patterns away from people that need attention just to gain a little more hps on the meters.
Notes:
These are better for 5man content, but rather average in raids because the uptime of the buff is lower. They are still a valid option for raiding also, but pants and trinket pull ahead on throughput.
Muze's Unwavering Will
- Not the worst. The biggest caveat with this legendary is that it requires you to be above 75% health for it to be any use. Meaning during mythic progression, it's not uncommon to be below that threshold making the bonus to this legendary completely null. However, specifically in dungeons the reduced cast time on your spells can provide useful, and the quicker Smite can help dps some when there's nothing better to do.
Notes:
With 7.2 Flash Heal was added to the legendary which give them a bit more value.
The Alabaster Lady
- This legendary has great potential if you get good value out of the procs, and really poor potential if they are wasted. Due to the random nature it can give varying results. In order to really shine, the procs need to line up with damage, but it's still a solid option if you don't have any of the top legendaries.
Al'maiesh, the Cord of Hope
- The two biggest problems with this is that you want to be using your Holy Word spells on cooldown as damage allows, so saving up charges is not usually a great idea. The other issue is that our Holy Word spells already do a lot of healing, any more could easily be converted into over healing not to mention reduced overall healing due to lower divinity uptime. An important interaction is that if you use Binding Heal, it will build up stacks for both Serenity and Sanctify at the same time. This legendary can be used to better effect in 5 man content, but even in dungeons, holy words should be used as much as possible.
Soul of the High Priest
- Unfortunately while this ring isn't a terrible legendary on its own, when compared our other legendaries it fails to perform. Using this grants us the Surge of Light talent which enables us to use it along side either Binding Heal or Piety granting us some slight movement and mana savings.
Norgannon's Foresight
- Limited use. With the change to control the proc gets more use, since casting while moving is usually beneficial. It has the potential to allow you to Hymn while moving which is pretty useful. That way we can pretend to be druids even if just for a second! Yet still not among the preferred ones.
Sephuz's Secret
- One of the worse ones for us. It can be procced with dispels now, but still overall provides little to no benefit. Decent for m+ dungeons where haste is better.
Phyrix's Embrace
- Pretty bad. Increases Guardian Spirits duration and Healing bonus, but every other legendary outshines it by a mile.
Insignia of the Grand Army
- Highly dependent on what Tier 2 Netherlight Crucible traits your relics end up with. Even then, some of our other legendaries offer a lot more with their effects.
Back to table of contents
[7.3.2] Trinket Rankings, Relic Rankings, Spell Comparisons & more:
Holy Priest Spreadsheet
Advanced Gameplay
Here is a link to our advanced guide, which you can find useful after you have mastered the basics of the spec.
Advanced Holy Guide
Back to table of contents
Addons
Weakauras
- Easily one of the best addons you can get as a raider. This will allow you to track just about any sort of thing in the game from buffs to boss mechanics to spell cool downs.
Here is a great place WA to look for all sorts of weak auras related to Holy Priests:
https://wago.io/weakauras/classes/priest/holy
The pastebin:
A great horizontal weak aura tracking Holy spells and cooldowns -
https://wago.io/Vk1IuxiP-
The same thing but in a vertical format -
https://wago.io/Ny214XV_b
Grid/Grid2/ElvUI/Vuhdo - These are good choices when it comes to getting customizable raid frames to track debuffs, buffs and more.
Blizzard Base Frames are also very good. They are a lot more customizable than they used to be through the Raid Profiles tab of the interface options.
Here is an example of how Aspartaami set up his frames: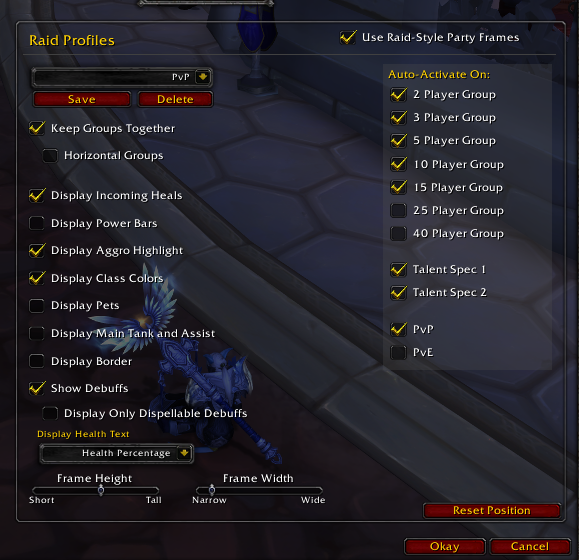 Here is an example of how they look:

The most desirable part of the default Blizzard Frames is that they automatically track all of the important debuffs and buffs that are built into the game. They are constantly updated so that you never have to worry about adding your own trackers. If there is something you need to know about as a healer, Blizzard has it covered.
Back to table of contents
Closing Thoughts
Thank you for taking the time to the guide. This is a collection of thoughts and experiences from testing, discussions and actual performance in a Mythic Raiding scenario. Please use this to add upon your knowledge and help improve your gameplay. Do not follow anything too strictly or take any opinion too close to heart. There's always more than one way to do things, and some situations call for unusual solutions.
Last edited by
Aspartaami
on 16 Feb 2017, 09:19, edited 36 times in total.
---
by Ashedfog » 13 Oct 2016, 09:54
Thank you, very helpful!
---
by fr0d0 » 13 Oct 2016, 14:31
Great work. Fantastic guide.
---
by argorok » 14 Oct 2016, 09:07
Great guide! What encounters do you think are worth for using Benediction? Also, whats the best race for hpriest in your opinion?
---
by Renray » 14 Oct 2016, 12:30
argorok wrote:Great guide! What encounters do you think are worth for using Benediction? Also, whats the best race for hpriest in your opinion?
Horde - Blood elf
Alliance - Doesn't really matter
Benediction is specifically good on fights with constant ticking raid damage. For mythic encounters specifically Nythendra, Dragons, and Cenarius all have the potential to be good encounters for Benediction. However, Apotheosis is still very useful on Nythendra and Cenarius. I know specifically however that it's currently performing well on Dragons.
---
by Cheyu » 24 Oct 2016, 18:50
Brilliant guide.

I just obtained LoT, and I am wondering how to best utilise it. Before the tank takes significant damage, obviously, and it can be situational - but with nothing major coming, would you throw one charge into your rotation on CD to help with mana conservation?
---
by Renray » 25 Oct 2016, 09:42
Using LoT as a free heal never hurts. I'll occasionally use it as a sort of free Flash Heal if I know I wont get much value out of it in the future.
---
by Wicibeth » 26 Oct 2016, 17:16
Very useful guide, thanks! Do you have any stat weights (for Pawn) for the recommended that priority?
---
by marshdapro » 31 Oct 2016, 13:18
Awesome guide man! This really helped me? I was wondering what the stat prioritys would be for a Mythic+ dungeon. I notice you suggest 5% haste, which isnt ideal for a M+. What would the ideal secondary stat setup be if there was more haste?
---
by Renray » 02 Nov 2016, 16:09
Haste take a higher priority in mythic+ but that's about it. Nothing really changes. Consider trading out some mastery for haste.

For example, I like using my chrono shard trinket for the haste proc when pushing higher level keystones cause the on-demand healing and damage can provide extremely useful.
---
---
Users browsing this forum: No registered users and 1 guest
Support Our Community
Video Content
Be Social
Tweets by HowToPriest
All times are UTC - 8 hours [ DST ]