[Outdated] TL;DR Holy Guide.
by Renray » 27 Sep 2016, 22:53
This is a more casual-based guide targeted at new players or people who are not accustom to playing the Holy Priest spec. I will sum up the important info you need in as short of a guide as possible.
Stat Weights!
WITHOUT
Blessing of T'uure
- Mastery > Crit > Haste > Vers
WITH
Blessing of T'uure
- Crit =>Mastery > Haste > Vers
Talents:
For Raids
: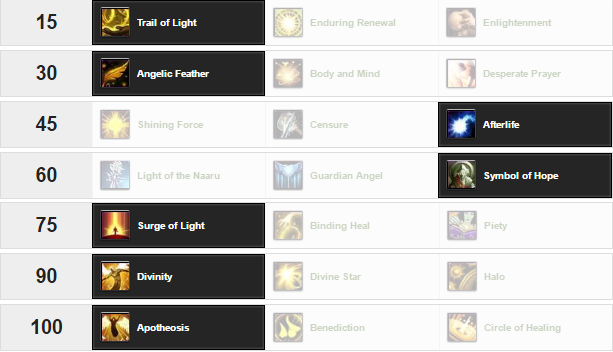 For Dungeons
: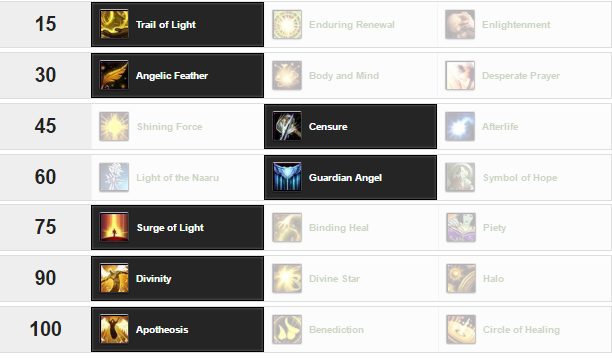 TL;DR Talents:
Trail of Light
is the core mechanic. Use this talent in order for
Flash Heal
to be your main source of healing. Plan out times to use
Apotheosis
and
Symbol of Hope
. When running
Guardian Angel
, don't be afraid to spam your
Guardian Spirit
cool down, it will refresh very quickly.
Traits:
Here are the first 13 points you should get, please refer to a more in-depth guide for further analysis.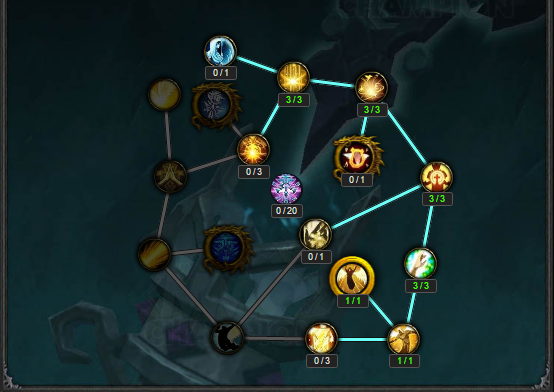 TL;DR Traits: Nope! You don't get a gold dragon ;)! The reason is the only useful ones are gated behind useless minor traits. Instead, use this 13 build path for a potent boost to your healing.
Playstyle:
1) Plan your Holy Word usage. Get them on CD Asap. Don't waste
Serenity
if it's going to absurdly over-heal.
2)
Flash Heal
! This is your bread and butter. The spell you'll cast the most of. Use PoH for AoE damage instead.
3) Get
Prayer of Mending
on cool down when no one is in need of immediate healing.
4) Try not to
Renew
unless you're moving or need to Pre-HoT the group.
5) Use
Heal
as a filler, or just DPS in the lack of needed healing.
---
Users browsing this forum: No registered users and 0 guests
Support Our Community
Video Content
Be Social
Tweets by HowToPriest
All times are UTC - 8 hours [ DST ]