[H2P] 7.0 Holy Guide [10/13/16]
by Niphyr » 24 Aug 2016, 16:32
Table of Contents
Introduction
Acronyms
Toolkit
Stat Priority
Talents
Basic Play-style
Artifact
Consumables
Legendaries
Advanced Gameplay
Addons
Introduction
Hello, my name is
Renray
. I'm the healing officer for the Guild
<Vindicatum>
on Icecrown(US). I have spent many months in my short time raiding at the start of BRF to now, learning and adapting the Holy Priest specialization through discussion, beta testing, theorycrafting and parsing. Most noticeable achievement being the
rank 1 Holy Priest in HFC
, and helping pave the way for how Holy is played today in Legion. All of my information is backed up by personal testing and logs. I want all the information here to be something I both personally believe works in theory, and I also use in practice.
Social:
Twitter
Twitch
Acronyms
FH =
Flash Heal
PoH =
Prayer of Healing
PoM =
[Prayer of Mending
DH =
Divine Hymn
LoT =
Light of T'uure
PotN =
Power of the Naaru
BoT =
Blessing of T'uure
Toolkit
Basic Toolkit
Heal
- A single target, very slow, and very mana-inexpensive heal.
Flash Heal
- Faster version of Heal. Heals for the same amount more quickly at the expense of more mana.
Renew
- Instant cast Heal over Time (HoT) spell. Relatively expensive for the amount it heals. Usually not worth casting.
Prayer of Healing
- Slow cast, AoE spell that heals 5 allies around your target. Considered our mana-dump.
Prayer of Mending
- Fast cast buff that applies 5 charges to a friendly target. When the target takes damage, the buff will then heal them, and bounce to a new target.
Holy Word: Serenity
- Very strong single target heal. Instant cast. 60 second cool down before Serendipity.
Holy Word: Sanctify
- Very strong AoE targeted ground heal. Instant Cast. Hits 6 players. 60 second cool down before Serendipity.
Smite
- Fast cast damaging ability. Costs no mana. Filler.
Holy Fire
- Instant cast damaging ability. Leaves a DoT on the target which does the majority of its damage and can stacks up to two times.
Holy Word: Chastise
- Strong single target, instant cast, damaging ability. Incapacitates the target for 5 seconds.
Cool downs
Guardian Spirit
- Buff. Lasts 10 seconds. Increases the healing the target receives by 40% during the duration of the buff. Guardian spirit will also prevent the target from dying to a fatal hit, (up to 200% maximum hp) instantly cancelling the buff and reviving the target back to 40% of their maximum health.
Divine Hymn
- Major healing cool down. Heals all party and raid members within 40 yards for a large amount over 8 seconds. After the initial tick hits, all affected players will receive a buff, increasing the healing they take by 10% for 8 seconds. Each tick of Divine Hymn re-applies the buff.
Utility
Spirit of Redemption
- Upon death, the priest will enter a spirit form in which they are immune to all damage, and may cast all healing spells free of mana for 15 seconds. After which they die.....notsohorribly?
Mass Dispel
- Large targeted ground AoE that purges 1 magical effect from enemies or dispels all harmful magic effects from up to 5 friendly allies within it's radius. Heavy mana cost. Can remove typically undispellable buffs like Iceblock and Divine Shield
Leap of Faith
- Grabs a friendly player in your raid or party and pulls them directly in front of you.
Purify
- Single target dispel. Removes all magic and disease effects from your target.
Dispel Magic
- Removes one beneficial magic effect from your enemy.
Stat Priority
First let's look at how each secondary stat affects our class
Critical Strike
- Gives the chance for our healing spells to do double their original amount. A particularly interesting interaction is that if you crit with a spell, the following Echo of Light on that target will also be twice as strong. So this stat double-dips ever so slightly.
The other main interaction with this spell is Blessing of T'uure which gives a 20% to gain a healing buff every time our Flash Heal or Heal crit.
Haste
- Reduces the cast speed of spells, and lowers the cooldown of certain spells in our toolkit like Circle of Healing and Prayer of Mending. Doesn't do too much outside of that. The reason we don't get too much of this stat is to avoid running out of mana too quickly by having more spell casts throughout a fight, as having a lower amount will help you pace yourself better, and there's no real reason to stack this stat if you don't take advantage of the extra casts over the course of a fight. We also don't have any Healing over Time (HoT) spells worth buffing, as Renew is pretty bad.
Note: Renew no longer has any haste breakpoints. It scales linearly meaning instead of reaching a certain point in which you'll get an extra tick of Renew, it instead just gives you a lower-value tick at the end of the duration that does more or less healing depending on your haste.
Mastery
- This stat directly buffs our Echo of Light passive.
What Echo of Light does, is take the amount of direct healing that you did to a target, and then puts of a 6 second HoT on them that will heal them for a % of the initial amount of healing you did.
Example: If you have 30% mastery, and cast a Heal that does 100,000. The Echo of Light would then heal the target for 30,000 over the next 6 seconds in the form of a HoT. More specifically, it would be two ticks of 15,000.
The effect can stack. If you cast several heals into a target in a row, the Echo of Light will build up be extended to 8 seconds. Because the duration is increased it may seem like the value of the healing is going down. This isn't the case, the healing is just now being extended into a 8 second HoT instead of a 6 second one. Meaning it will do the healing over 3 ticks instead of 2.
The following are the stat priorities that you would be using depending on your current artifact situation.
With
BoT
: Crit => Mastery > Haste > Vers
Without
BoT
: Mastery > Crit > Haste > Vers
The theoretical crit cap with Blessing of T'uure is 40%. At this point, mastery becomes more relevant. This is due to making sure you aren't overlapping BoT buffs.
The reason that there are two different stat priorities is due to the artifact trait, Blessing of T'uure. This trait revolves around getting more critical strikes to have a chance to buff your healing done.
For example, a good secondary stat setup would look like this:
30% Critical Strike
5% Haste
35% Mastery
This should be relatively simple to obtain. You will need to get a lot more crit than mastery to get these percents balanced. This is because for every 350 critical strike rating you receive 1% crit, and for every 280 mastery rating, you receive 1% mastery. This means that you need to get a lot less mastery to obtain a higher percent. Meaning you should have more critical rating than mastery, but less percent than mastery.
The reason that we want to get more crit even though it takes more rating is due to that fact you want to get yourself to a place where you are able to proc Blessing of T'uure consistently throughout a fight. You should be aiming for at least a 20% uptime. Anything less than that and you may need to consider your crit being too low, or how often you're casting Flash Heal. A 20% healing buff is no joke, and a large portion of your healing done should be during BoT up time. Please keep in mind there is a bit of an RNG factor to this buff so try not make knee-jerk reactions based on 1 log.
Talents
Tier 15
Trail of Light
- After casting Flash Heal, subsequent casts of Flash Heal will replicate 40% of the value of Flash Heal on the previous target.
Note: Trail of Light heals act as their own separate Flash Heals. This means that Trail of Light has all the same interactions as Flash Heal. Trail of Light can critical strike, proc Echo of Light, proc Blessing of T'uure, and interact with trinkets that affect Flash Heal, like refreshing the duration on Amalgam Seventh Spine.
Enduring Renewal
- Direct healing spells now refresh the duration of Renew on the target. Interacts particularly well with Binding Heal. However, this talent is typically viewed poorly as it is outshined by other choices on the tier. Renew in particular isn't very strong, and the talent can easily trick players into healing targets who don't need attention simply to refresh the duration of Renew, thus wasting time and mana.
Enlightenment
- Increases mana regeneration by 10%. Equates to approximately 50k mana per minute. Not particularly strong, but useful in specific situations. Fights where you are spamming Prayer of Healing with little Flash Heal, or on Overflowing weeks, this talent could provide useful.
Go-to Choice
: Trail of Light. Due to the fact that this talent gives our main filler spell huge amounts of mana-efficiency by increasing its healing done at no cost, paired along with the fact that it makes for amazing tank healing, and doubles our BoT uptime, it's easily the default choice in this row.
Tier 30
Angelic Feather
- Targeted ground ability that places a feather on the floor, and increases the speed of any friendly player who walks through it by 40% for 5 seconds. There can be a maximum of three feathers out a time, as well as it can hold 3 charges. This talent is one of our two only options at mobility this expansion, and by far the best choice.
Body and Mind
- Instant cast spell that increases the speed of a friendly player by 40% for 4 seconds. Also applies a minor heal over it's duration. Has a 10 second cool down. Because this spell can only be used once every 10 seconds, its less desirable than the feathers, despite the fact this talent has some minor healing tied into it.
Desperate Prayer
- Instantly heals the priest for 20% of their maximum hp, then applies a buff that increases the priest's maximum health by 20% for 10 seconds, decaying by 2% every second. This is the priests only option for a personal cool down this expansion outside of Guardian Angel at the cost of our only mobility.
Go-to Choice
: Angelic Feather is by far the best choice on this row because the mobility is far too important. More often than not, having the extra movement speed will prevent more damage than Desperate Prayer could ever heal.
However, consider taking Desperate Prayer in certain scenarios such as higher Mythic+ dungeons with 1-shot mechanics, or Mythic Raid bosses with high burst potential like Il'lgynoth . Shade of Xavius is an example of a boss where you could instantly die without some sort of personal cool down. However, in most cases, simply saving Guardian Spirit for yourself is enough to make up for the lack of having Desperate Prayer.
Tier 45
Shining Force
- Knocks away, and slows all enemies around your target by 70% for 3 seconds. However, you won't be taking this talent most of the time due to the fact it's very counter-productive to the dps in your dungeon. Most of the time you do not want to spread out mobs. You want them grouped up so that you dps can cleave easily. This talent should be used with care as to not spread out mobs, pull extra packs, or miss position important adds.
Notes: This talent can be particularly useful in certain scenarios. During Sanguine affix's you should use this talent to reposition pesky caster adds out of pools to prevent them from healing. During Necrotic affix's this spell can be used to help reset high stacks of poison on your tank, and during Skittish affix's, this spell can be used to push deadly mobs off DPS who get aggro. And lastly, this spell is particularly useful for re-positioning bloods on I'llgynoth.
Censure
- Turns your Holy Word: Chastise into a 5 second stun, instead of a 5 second incapacitate. Meaning your target will no longer break CC upon taking damage. Good for locking out dangerous mobs. This talent is particularly useful while leveling and doing dungeon content, as it provides CC like Shining Force, but without positioning mobs for less optimal cleave damage.
Afterlife
- Increase the duration of your Spirit of Redemption by 50%, making it go from a 15 second duration, to a 22.5 second duration. This talent is particularly useful paired with the Legendary Cloak, and is the only potential healing increase on the talent row, making it the go to choice for raiding.
Go-to Choice
:
For Raiding
: Afterlife. It's healing potential outweighs the CC in most cases unless you are taking one of the other talents to do a specific job.
For Dungeons
: Censure. The reason this talent is the go-to over Shining Force is due to its ability to CC mobs without repositioning them. It is almost always better to group up adds and kill them quickly rather than to spread them out. Your dps will thank you. As mentioned above, however, there are plenty of scenarios where it would make more sense to take Shining Force so long as you position it properly, and communicate with your group.
Tier 60
Light of the Naaru
- Increases the effectiveness of your Serendipity passive by subtracting an additional 2 seconds from the cooldown of Holy Word: Serenity, and Holy Word: Sanctify. This talent is generally pretty good for dungeons, as you are typically relying on your Holy:Word spells to get you through difficult situations.
Guardian Angel
- If the target of your Guardian Spirit lives for the full 10 second duration, the cooldown on the spell is then reduce to 90 seconds, rather than 240 seconds. This talent is extremely useful in higher level dungeons so long as you make constant use of the spell. Having a tank external on such a low cool down is extremely beneficial and can make the run go very smoothly. This is my personal favorite for dungeons, as I don't really notice the benefit of Light of the Naaru nearly as much.
Symbol of Hope
- This spell applies a 10 second buff to all healers within 40 yards. While this buff is active, spells no longer cost mana. This spell is extremely powerful, and basically the AoE version of a druid's Innervate. Make sure that if you are using this spell that you communicate with your raid when you plan to use it so your healers can spend their more mana intensive spells during it's duration.
Go-to Choice
:
For dungeons
: I highly recommend Guardian Angel. The tank cooldown far outweighs the extra Holy Word usage from Light of the Naaru, but either of these choices are fine.
For raids
: Symbol of Hope is an easy choice. Proper use of this ability is an amazingly large hps gain for all healers in the raid. If you are having trouble finding a place to make use of Symbol, or you're doing content that wouldn't require the extra mana, feel free to replace it with Light of the Naaru.
Tier 75
Divinity
- Increases your healing done by 15% for 8 seconds after casting either Serenity or Sanctify. This talent is particularly good because it can have a relatively high uptime when using your Holy Words correctly, as well as having the ability to buff some of our highest throughput spells, like Divine Hymn.
Halo
- Fast cast AoE heal and damaging ability that creates a ring of light around you, and quickly expands to heal all allies and damage all enemies within 30 yards This spell is great for questing and tagging mobs, and well as being a nice little AoE heal to people who are spread out and hard to hit with more tight-knit spells like Prayer of Healing or Sanctify. Has surprisingly strong burst AoE damage for a healing spell.
Divine Star
- Instant cast AoE spell that shoots out in a straight line for 24 yards, that heals all allies and damages all enemies in front of you twice, once as it goes out, and once as it returns. Not particularly useful in any situation. The damage isn't much more than just simply casting Holy Nova, and the healing is pretty negligible.
Go-to Choice
: For raids and higher-end dungeons, take Divinity as it will provide the largest healing increase. For low-level dungeons and questing, take Halo for mob-tagging potential and burst damage.
Tier 90
Surge of Light
- Your healing abilities and Smite now have an 8% chance to proc Surge of Light. This buff makes the next Flash Heal you cast, both instant, and free of mana. This buff can stack up to 2 charges. Strong talent as it both provides free healing, and the ability to allow for mobility by giving us stronger spells to cast while moving. Good synergy with Trail of Light.
Binding Heal
- A relatively strong heal that targets 3 people. Your target, yourself, and another player within 20 yards. Also triggers Serendipity by reducing both Serenity, and Sanctify by an 3 seconds each, as opposed to the typical 6. Strong spell for scenarios where you will be taking constant raid damage so that the self heal is always relevant, otherwise the overhealing makes it mana inefficient. Unfortunately we do not typically take this spell right now because of how good Flash Heal and Trail of Light are. Binding Heal also does not proc Blessing of T'uure.
Piety
- Prayer of Mending now triggers Serendipity on cast, making it reduce the cooldown of Sanctify by 6 seconds. Not a super desirable talent as it pales in comparison to Surge of Light at the moment.
Go-to Choice
: Surge of Light is hands down the best talent on this tier. It meshes too well with the rest of our toolkit, and gives us more mana longevity.
Tier 100
Apotheosis
- Powerful healing ability on a 3 minute cooldown. Increases the passive Serendipity by 200%, meaning the reduction of spells that affect Holy Words cooldown goes from 6 to 18 seconds, or with Light of the Naaru, from 8 to 24 seconds. Also reduces the mana cost of all Holy Word spells by 100%, making them free.
Benediction
- Prayer of Mending now has a 50% chance to apply Renew to each target it heals. Relatively good on fights with constant ticking damage like Dragons of Nightmare, or Cenarius. The reason is that it will make sure that Prayer of Mending is never wasted, as well as making use of the Renew healing afterward.
Circle of Healing
- Instant cast AoE spell that heals 5 targets for a moderate amount. 15 second cooldown that is reduced by haste. This spell is very mediocre, and a poor choice in almost all scenarios. It provides just about the same healing as Prayer of Healing with artifact buffs, and costs more mana. This spell will cost you more mana than it will provide healing. This talent is easily outshined by other choices on the row.
Go-to Choice
: In most cases, both Raid and Dungeons, Apotheosis is the winner. The amount of burst healing it provides is amazing, all while saving you mana from the reduction of the Holy Word spells. In certain scenarios, Benediction can do pretty good healing, especially paired with the Legendary Pants, but is typically outshined by the potential of Apotheosis.
Basic Play-style
In WoD our filler spell was Renew. That is no longer the case, in fact, it's easily one of our worst spells due to the fact it has high mana cost, low healing, and no interaction with our Holy Word spells.
Holy Priests basic rotation boils down to taking advantage of our passive Serendipity so that we can make use of as many Holy Word spells as possible.
This is made easy by the fact that our single target heals like Heal and Flash Heal reduce the cooldown of our single target Holy Word spell, Serenity. And our AoE spell, Prayer of Healing reduces the cooldown of our AoE Holy Word spell, Sanctify.
This means that we don't have to make too many difficult decisions when it comes to what kind of spells we should be using. Either you need more Single Target, or you need more AoE. Simple.
Artifact
Recommended Path -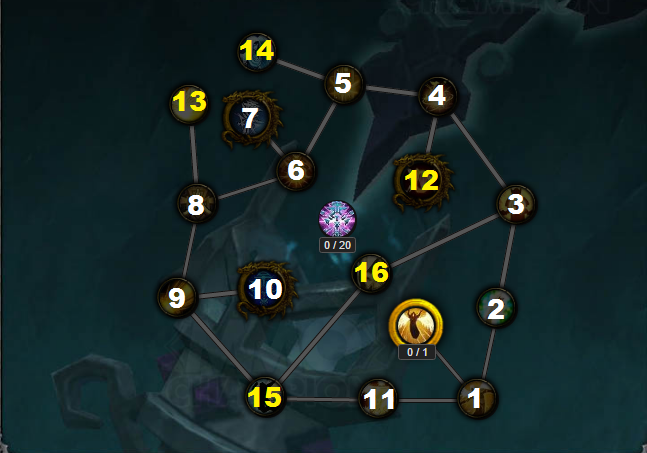 Explanation
- The first 11 points are in White. The reason that they are in White is because this definitely the order you want to go in with very little exceptions. The ones in Yellow, from 12-16 are more a preference thing, however that is still the order I would recommend.
Relics:
Reverence
>
Holy Guidance
>
Power of the Naaru
>
Serenity Now
&
Words of Healing
Usually shoot for the Highest ilvl
Gold Traits
Renew the Faith
- This trait isn't super great to be completely honest. The potential it has is extremely gated by the fact we don't have any way to get a lot of Prayer of Mending's out on the raid at one time. The cool down on the spell is relatively long, and by the time you can cast another time, the first one is usually half-gone. This does very minimal healing in a raid setting. We skip over this trait because it's not worth taking early on.
Notes: It does mesh relatively well with Benediction, and the amount of bounces per second is reduced by haste. However neither of these interactions are a good enough reason to grab this trait early on.
Blessing of T'uure
- This gold trait is one of the better ones in the game. It gives us a buff that is a flat 20% healing increase across the board. Affecting everything from our filler heals, to our Divine Hymn, to our Echo of Light. This is also the reason that Trail of Light and Critical Strike rating are so very important. You want to be maintaining a decent amount of BoT uptime, as you do a lot more healing during the duration. That means having more crit = having more healing.
Light of T'uure
- This an active, 2 charge instant cast spell, that does about the same healing as Flash Heal, and applies a buff to the target for 10 seconds that increases all healing the target takes from you by 25%. It also costs no mana.
This spell is super useful in all kinds of scenarios. Because it costs no mana, it is another mana-efficiency gain for the spec, along with being another spell that we can cast while moving that isn't renew. This spell can be hard to get used to at first as you have to plan it out ahead of time. Since it's on the GCD you want to try and use it before someone is going to take a lot of damage so that you can pair it with something like Serenity of Flash Heal spam. Think of it as a mixture of Surge of Light and Guardian Spirit.
If you're ever unsure of how to make use of the healing increase, putting it on the tank is almost always a good idea, as they are taking constant damage.
Another Trait worth mentioning is
Power of the Naaru
. This trait at 3/3 increases the healing done by Prayer of Healing by 18% for 15 seconds after casting Sanctify. It's important to take advantage of this buff and plan accordingly so that you can cast as many Prayer of Healings during the buffs duration that your mana will allow assuming you the AoE healing is needed.
Consumables
Ancient Mana Potion
- Restores 160,000 mana on-use instantly. Good potion to use when you don't have the time to sit and drink for 10 full seconds. Also useful for fights where you need a touch more mana, but it doesn't make sense to stop healing.
Leytorrent Potion
- Restores 240,000 mana over the course of 10 seconds in which you are unable to move or cast spells. This is usually the potion you want to use on progression. Find a time during the fight in which you can take advantage of the extra mana. Just be sure to communicate with the rest of you raid and fellow healers that you'll be unable to help heal during that time.
Potion of Deadly Grace
- This is our only option in terms of a pre-pot this expansion. You can use this before a pull and dps at the start of the fight to help make dps checks.
Flask of Whispered Pact
- The basic Intellect flask this expansion.
Food:
You actually have a choice here. Depending on your current gear situation, you can either use
The Hungery Magister
or
Nightborne Delicacy Platter
. You can use food to your advantage by helping balance out your stat weights so you don't have too much of either.
Enchants:
Neck -
Mark of the Trained Soldier
The reason that we do not take
Mark of the Ancient Priestess
is for a couple reasons. The healing that is does is extremely low, usually about 1-2% of your total healing. While 300 mastery isn't that much more in terms of HPS output, at least you can target where your healing is going rather than relying on a random proc that may or may not do anything.
Cloak -
Binding of Intellect
Rings - Just like your food, you can decide between
Binding of Critical Strike
or
Binding of Mastery
depending on your current gear situation.
Legendaries
Prydaz, Xavaric's Magnus Opus
- Decent legendary. The shield it provides is useful due to the fact that we have no personal cool down, so the extra cushion it provides is actually pretty desirable. On top of that, any absorbtion that the shield does gets counted toward your hps, so it looks nice on the meters. This Legendary can be particularly useless on fights where there is constant ticking damage, like Cenarius, Dragons and Nythendra because you won't go the duration required without taking damage.
Muze's Unwavering Will
- Not the worst. The biggest caveat with this legendary is that it requires you to be above 75% health for it to be any use. Meaning during mythic progression, it's not uncommon to be below that threshold making the bonus to this legendary completely null. However, specifically in dungeons the extra cast time on your heals can provide useful, and the extra haste to Smite can help out your dps some when there's nothing better to do.
Entrancing Trousers of An'juna
- These pants are surprisingly decent. While Renew isn't normally a spell that you want to be casting, this Legendary makes them on par with our other fillers spells. This adds a large benefit to fights you'd run Benediction on. With this Legendary, you don't want to run around spamming renew, as it still has no interaction with our Holy Word spells, it's just more useful when you have to.
Phyrix's Embrace
- Pretty bad. You don't want to be casting Renew in the first place, so you typically won't have many HoTs out on the raid. And when you do, the healing it truly does is actually very minimal. Almost as bad if not worse than Sephuz due to the fact that this ring has heavy Haste rating.
X'anshi, Should of Archbishop Benedictus
- By far the most powerful legendary available to Holy Priests. It allows you to resurrect after you die. Basically turns into a free battle rez every pull. You can use this cloak in many different ways. You can purposefully kill yourself to make sure of a 23 second innervate with Afterlife, (not recommended without enormous preparation and communication) you can use it to soak mechanics, you can use it to quickly mass-rez your raid after a wipe, but above all it acts as a personal cool down that Holy Priests so desperately need.
Notes:
You do not regenerate any mana during SoR
You do not lose food or rune buff if the cloak procs
You get a buff during SoR that starts a 1 and goes to 100. The more you heal, the more health you come back to life with. If you end at 60 stacks, you come back to life with 60% health.
You can only revive once every 10 minutes.
The debuff will also reset on a boss reset like Heroism/Lust. Meaning you can die every pull.
Al'maiesh, the Cord of Hope
- One of our better legendaries. The two biggest problems with it is that you typically want to be using your Holy Word spells on cooldown, so saving up charges is typically not too great of an idea. The other issue is that our Holy Word spells already do a lot of healing, any more could easily be converted into over healing. This particular Legendary will see more use in dungeon content than raid, but has uses for both if planned appropriately. An important interaction is that if you use Binding Heal, it will build up stacks for both Serenity and Sanctify at the same time.
Norgannon's Foresight
- Limited use. We don't have many instant cast spells to use that would proc the Foresight in the first place and spamming renew is pretty un-optimal. However it has the potential to allow you to Hymn while moving which is pretty useful. That way we can pretend to be druids even if just for a second!
Sephuz's Secret
- Well known bad legendary. We don't have many options to apply CC outside of Chastise, and since it doesn't work on bosses who are immune to stuns, you'll see little to no use out of this legendary in raids. Can be decent in dungeons, but overall provides little to no benefit.
Advanced Gameplay
After you get passed the basic concepts, you realize that a lot of your healing comes from a small amount of sources. Typically the majority of your healing will come from Flash Heal/Prayer of Healing, Serenity, Sanctify, and lastly, Echo of Light. Echo of Light is healing our mastery does after you heal someone with a spell.
So where does the difficulty come into play? I think there are 3 things that separates a good Holy Priest from a bad one.
Overhealing Management -
Because we have such amazingly potent spells, and rely on critical strikes and mastery to do a large portion of our healing, it's important that we allow our Echo of Light do some of the work for us. There will be times that you Flash Heal someone to 80% and you will want to Flash them again to top them off, when instead you should put your attention else where and let your Echo of Light do the job of finishing healing them off.
It's also extremely important that you are not wasteful with your Holy Words. Try to only use them when they will get full value. Using Serenity on tanks or targets around 40% hp, for example is a great way to ensure that you won't be doing too much over-healing. Gauge a fight and prepare for when people are going to get hit hard. Use your Holy Words during these times.
Mana Expenditure -
Your goal at the end of every fight should be to go OOM right as the fight ends. That means you did a good job spending your mana over the course of a fight. One of the biggest issues I constantly see healers have is that they either don't use enough mana, or run out too quickly and then cannot recover throughout the fight. My recommendation is to always gauge how often you're casting Flash Heal and PoH. Make sure that you are on track to go OOM as the boss dies. Keep an eye on the boss's health, or get an addon that gives you an estimated time till death. Use these to help dump your mana at appropriate times.
Buff Management -
Throughout the guide we've discussed the importance of such healing increases as Divinity, Blessing of T'uure and Light of T'uure. Holy Priests have little to offer in terms of the base amount of healing they do, but then are heavily buffed through constant uptime of different healing increases.
You should make sure that you are taking full advantage of these healing increases. For example, if you know large amounts AoE damage are about to happen like an Ursoc Charge, consider casting a lot of Flash Heals prior to bait a Blessing of T'uure proc so that can you have a healing increase for your Prayer of Healing spam.
More specifically if you do get a Blessing of T'uure proc, you can wait until the Charge goes out, then immediately Sanctify afterward. That way you can also proc your Divinity and Power of the Naaru artifact trait for huge amounts of Prayer of Healing spam.
Managing buffs and baiting them when you plan on doing the largest amount of your healing will make or break the HPS you do during a fight.
Addons
Weakauras
- Easily one of the best addons you can get as a raider. This will allow you to track just about any sort of thing in the game from buffs to boss mechanics to spell cool downs.
Here is a great place WA set for tracking all things Holy Priest:
The pastebin:
https://wago.io/Ek-IVXw3Z
Grid/Grid2/ElvUI/Vuhdo - These are good choices when it comes to getting customizable raid frames to track debuffs, buffs and more.
Blizzard Base Frames are also very good. They are a lot more customizable than they used to be through the Raid Profiles tab of the interface options.
Here is an example of how I set up my frames: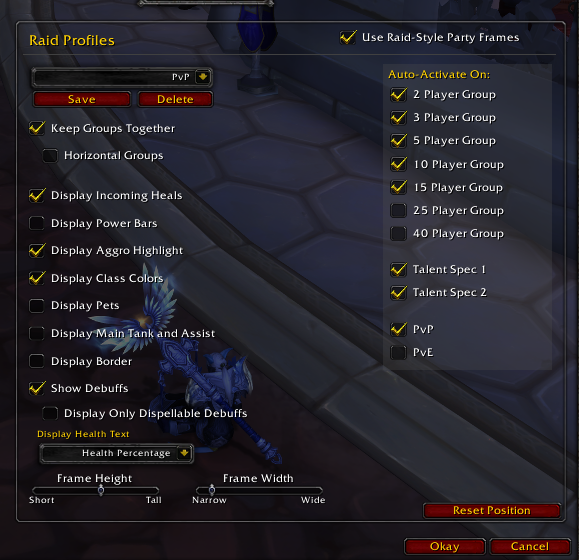 Here is an example of how they look:

The most desirable part of the Base Blizzard Frames is that they automatically track all important debuffs and buffs that are built into the game. They are constantly updated so that you never have to worry about adding your own trackers. This is why I use them.
Closing Thoughts
Thank you for taking the time to read my guide. This is my collection of thoughts and experiences from testing, discussions and actual performance in a Mythic Raiding scenario. Please use this to add upon your knowledge and help improve your gameplay. Do not follow anything too strictly or take any opinion too close to heart. There's always more than one way to do things, these are just an explanation to the methods of my madness. I hope it helps.
Last edited by
Niphyr
on 15 Jan 2017, 08:00, edited 5 times in total.
---
by Ashedfog » 13 Oct 2016, 09:54
Thank you, very helpful!
---
by fr0d0 » 13 Oct 2016, 14:31
Great work. Fantastic guide.
---
by argorok » 14 Oct 2016, 09:07
Great guide! What encounters do you think are worth for using Benediction? Also, whats the best race for hpriest in your opinion?
---
by Renray » 14 Oct 2016, 12:30
argorok wrote:Great guide! What encounters do you think are worth for using Benediction? Also, whats the best race for hpriest in your opinion?
Horde - Blood elf
Alliance - Doesn't really matter
Benediction is specifically good on fights with constant ticking raid damage. For mythic encounters specifically Nythendra, Dragons, and Cenarius all have the potential to be good encounters for Benediction. However, Apotheosis is still very useful on Nythendra and Cenarius. I know specifically however that it's currently performing well on Dragons.
---
by Cheyu » 24 Oct 2016, 18:50
Brilliant guide.

I just obtained LoT, and I am wondering how to best utilise it. Before the tank takes significant damage, obviously, and it can be situational - but with nothing major coming, would you throw one charge into your rotation on CD to help with mana conservation?
---
by Renray » 25 Oct 2016, 09:42
Using LoT as a free heal never hurts. I'll occasionally use it as a sort of free Flash Heal if I know I wont get much value out of it in the future.
---
by Wicibeth » 26 Oct 2016, 17:16
Very useful guide, thanks! Do you have any stat weights (for Pawn) for the recommended that priority?
---
by marshdapro » 31 Oct 2016, 13:18
Awesome guide man! This really helped me? I was wondering what the stat prioritys would be for a Mythic+ dungeon. I notice you suggest 5% haste, which isnt ideal for a M+. What would the ideal secondary stat setup be if there was more haste?
---
by Renray » 02 Nov 2016, 16:09
Haste take a higher priority in mythic+ but that's about it. Nothing really changes. Consider trading out some mastery for haste.

For example, I like using my chrono shard trinket for the haste proc when pushing higher level keystones cause the on-demand healing and damage can provide extremely useful.
---
---
Users browsing this forum: No registered users and 2 guests
Please Support Us
Join Us On Discord
Twitter Feed
Tweets by HowToPriest
All times are UTC - 8 hours [ DST ]