Shadow Priests in Battle for Azeroth
by Publik » 25 May 2018, 11:27
General Information
Hello everyone! On this page I'm going to go over all of the things that have changed for shadow priests since Legion. Keep in mind the new expansion is still in beta, so all of these things are subject to change at any time.
Update 6/4/2018
Update 5/31/2018
Dark Ascension
Currently the version being deployed to the beta is slightly in progress/outdated.
Version 2 listed below is the version blizzard has internally, blue post here.
New Spells Added
Baseline Ability Changes
Talent Changes
Removed Talents
New Talents
Changed Talents
Legion Talent Tree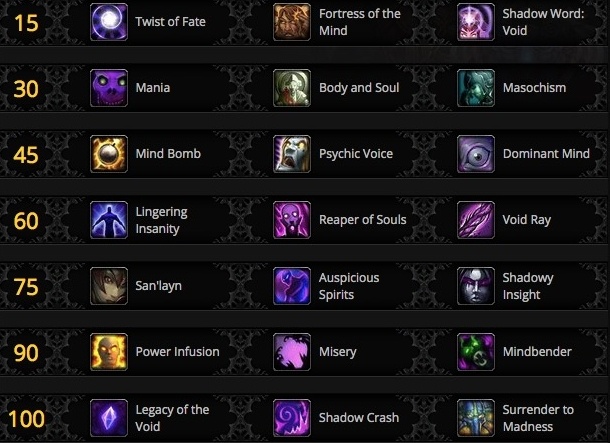 Battle for Azeroth Talent Tree
Level 15 Row
Level 30 Row
This row is basically personal preference. Just go with whatever fits for your current needs.
Level 45 Row
Level 60 Row
This row is basically personal preference. Just go with whatever fits for your current needs.
Level 75 Row
Level 90 Row
Level 100 Row
War Mode
If you chose to use War Mode while leveling (access to PvP talents + increased XP gain) here are the current PvP talent options you have to work with:
Level 1
Other Levels
To see what players are using for questing/leveling check out this survey (and take it for yourself if interested!)
Notable Spells lost from Legion Artifact
Azerite Traits
---
by Rehea » 31 May 2018, 11:44
Thank you for taking the time to do this for us. It is very much appreciated!
---
by Azhie » 01 Jun 2018, 04:16
I know it's a bit too early for the numbers. I am more concerned about the pacing of the class. Everything seems slowed down from what it was in legion(longer CD's, more DOT refreshing, etc..). Not sure how I feel about this but my knee jerk response is I do not like it. I have not played the beta though.

How does the class feel?

*Edit: thank you for posting this info!*
---
by Sarkli » 03 Jun 2018, 16:11
Thanks Publik for kicking us off on these forums. Im interested to see the workings all you guys put together in the final product as far as what is going to work. Of course it all comes down to tuning.

@Azhie From what ive been seeing i think most dps classes are 'slower' than what were used to. Shadow plays ok on beta but one whose maxed one out and dungeon/raid tested would be better equipped to answer.
---
by Nori » 11 Jun 2018, 06:38
Man, I'm going to miss baseline Shadow Word: Death.

Also I love the new talent is named after my handle on all social media. Definitely coincidence but it makes me like it even if it's crap haha.
---
by Perfectstorm » 11 Jun 2018, 13:18
First of all, a big "Thanks" for your effort. Not only here but for your overall work and time, that you spend to give us some feedback.
Second, before i start typing down my opining about Bfa and SPs, i want to mention that during the time, ive been playing this class, more or like 12 years, i never complained about changes, downhills or nerfs. I tried to stick to what was coming up and move forward. Tbh, even though many times, our class during past expansions faced some massive nerfs, in the end we managed to stay competitive.
Third, i gotta mention its my first time that i experience a beta version of the game. The major reason to say that is, because i want to make clear that beforehands i could have had the worse opinion about SP on upcoming expansions. As off now, during my time in BfA, the taste that im having is more bitter than anything else. I know or hope, that things gonna change, yet i barely remember a nerf , in every possible way.
There was at least a talent to remember in the past but now i find myself struggling and im getting dizzy, trying to play my SP. It might sound weird but, im not dissapointed about the nerf on our dots or spells overall. I can't stand thought the fact that they even made dispersion an average or even worse defensive cd.
So far, on the few raids that i managed to do, i can say we are doing ok, better than i hoped. Although, i cant see how the class can be competitive on mythic dungeons. It could be my play style, wrong talent choices, yet it felt akward against other classes.
---
by Rehea » 14 Jun 2018, 14:43
Will it matter which piece of gear we choose at the beginning as they all seem to have the same stats?
---
---
Users browsing this forum: No registered users and 2 guests
Support Our Community
Video Content
Be Social
Tweets by HowToPriest
All times are UTC - 8 hours [ DST ]